Why Joia?
Ceremonies with love and joy.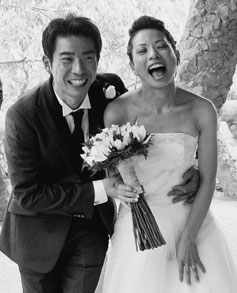 The name we have chosen for our wedding and anniversary related activities describes the spirit that permeates our ceremonies. It is with joy that we want to serve your couple, which puts one of the most important days in their life in our hands.
"Joia" is a Catalan word that comes from gaudia in Latin and from old Provençal. The same word is found, for example, in French, Joie, in Italian, Gioia and of course in English, Joy.
Joia in Catalan has a double meaning. On one side it means, joy, happiness, jubilation, delight. On the other, it means jewel, treasure, something precious.
Without "Joia", whether in its most intimate or elated expressions, the ceremonies we create for those couples that put their trust in us, would be meaningless.
All a couple needs to bring to their celebration is love; our contribution is joy, so that their ceremony will remain forever in the mind and in the hearts of all the people involved.
We are also aware that for each spouse, the other is the most precious treasure in their life and therefore, no efforts are saved to make the other happy. When we plan a ceremony we never forget what spouses want for each other as we realize that the memory of that event is what will inspire them all along the arduous and yet fulfilling path of love.
On the other hand, if we change the order of the letters in Joia, we come across the word Aijo(愛情)which means love in Japanese.
As our ceremonies are performed in both Spain and Japan, "Joia with Aijo" are the words that better describe how we put ourselves in the service of people coming from all around the world.